Careers News and Bulletin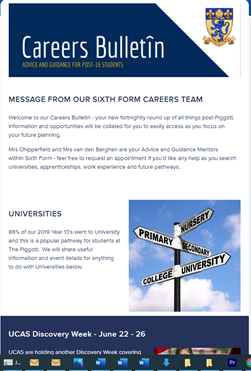 Welcome to our Careers Bulletin - your monthly round up of all things post-Piggott. Information and opportunities will be collated for you to easily access as you focus on your future planning.
Miss Giacomet is your Advice and Guidance Mentor within Sixth Form - feel free to request an appointment if you'd like any help as you search universities, apprenticeships, work experience and future pathways.
National Careers Week
Week commencing 6th March 2023 is National Careers week, which follows on from National Apprenticeship week last month.
In school, students will have assemblies based around; careers education at the Piggott, different careers pathways open to them and local labour market information. The assemblies will be adjusted for each year group. A year 7 student might will want to know different information compared to a year 13 student!
In tutor time, students will guess jobs their teachers have had in the past. Signposted where they can find additional information about careers and complete a survey asking them about how they find the careers provision at the Piggott and how we can develop it over the next few years.
Parents/carers may find the guide below to be a useful resource when looking at careers and talking with your child about careers.
Letter to parents - National Careers Week
Letter to parents - National Apprenticeship Week
CareerMag For Students and Parents
The free magazine CareerMag provides up to date information on apprenticeships, graduate schemes and professional jobs and is useful to parents and young people – please take a look.
Berkshire Opportunities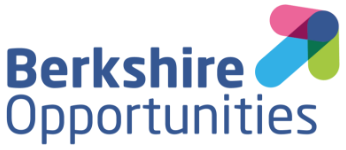 Berkshire Opportunities has been compiled specifically to inform students and parents about jobs, courses, apprenticeships and labour marketing information in the county.
Berkshire Opportunities Homepage
Virgin Media Work Experience