Safeguarding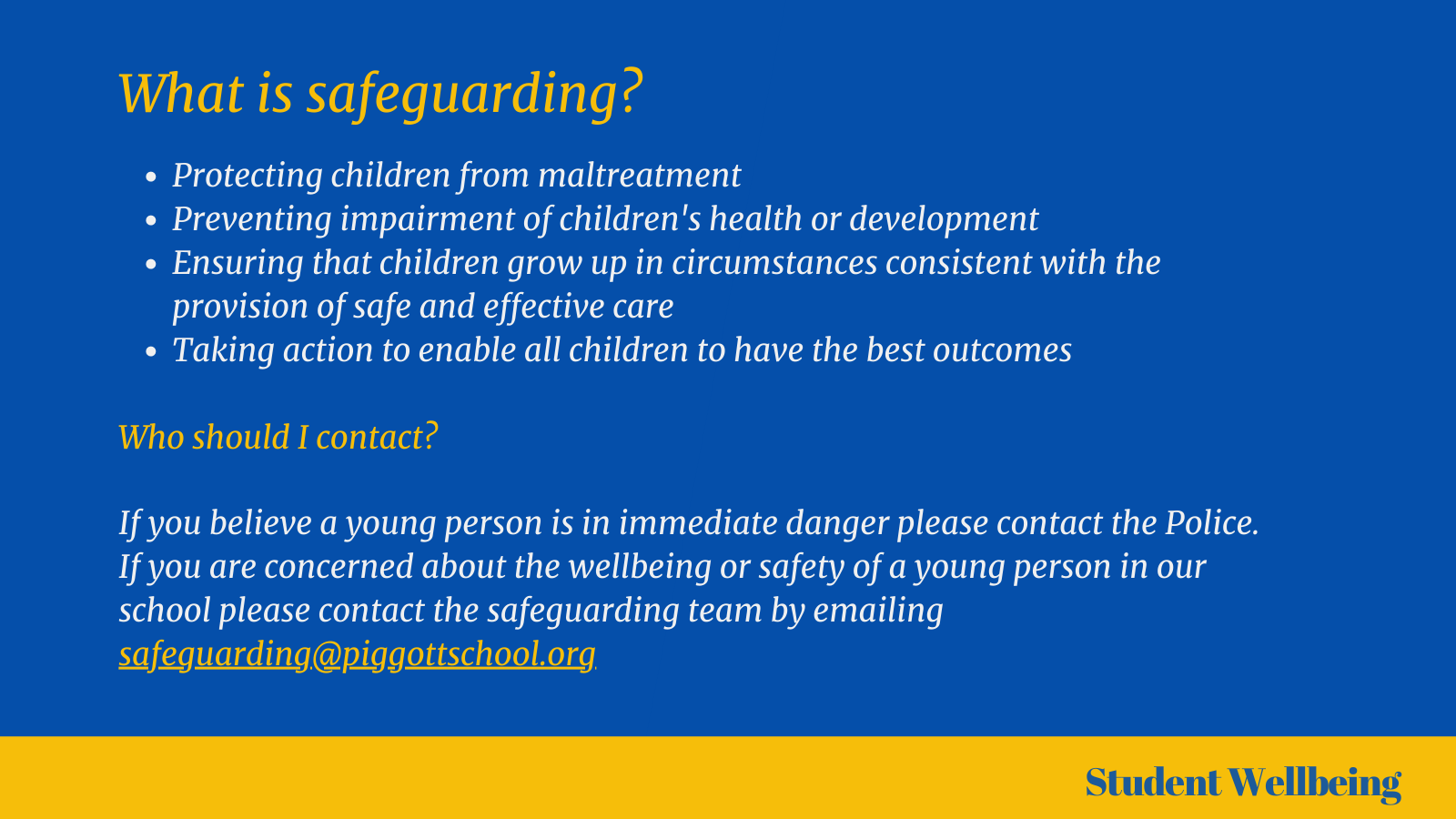 Safeguarding at the Piggott School
Keeping young people safe at school continues to have the highest profile at The Piggott School and we remain committed to raising awareness and skill through training, vigilance and ensuring that we fulfil our responsibilities to the school community.
We will continue to ensure that the new safeguarding legislation of September 2023 (KCSIE) is adhered to through outstanding practice and procedure across the school community.
The care and guidance offered at The Piggott School provides a culture and ethos, based on our Christian values, that will successfully help every child develop into active, confident, self-assured citizens of tomorrow.
The Safeguarding Team
David Bibby – Designated Safeguarding Lead – Wargrave

Claire Waite – Designated Safeguarding Lead – Charvil

Rebecca Alexander – Deputy Designated Safeguarding Lead – Wargrave

Alex MacLeod - Deputy Designated Safeguarding Lead – Wargrave

Jo Colby - Deputy Designated Safeguarding Lead and Safeguarding Officer– Wargrave

Nealash Bhadye - Deputy Designated Safeguarding Lead – Charvil

Mrs J Cowley – Lead Governor for Safeguarding


Safeguarding in the Curriculum
It is incredibly important that we teach our students to keep themselves safe in all manner of situations. Our Safeguarding Curriculum is delivered to students in a variety of ways and curriculum areas. For example, IT and Computing (Online Safety). Tutor Programme (relationship, sex education) PSHE (Consent). The Schools Collective Worship Assemblies (student reflection about their role and impact on their world). English (texts and articles based around current affairs and topicality.)

Reviewing the Safeguarding Provision at the Piggott School
As a school we believe it is vitally important to review our safeguarding ethos, provision, procedures and impact. Therefore we have annual safeguarding audits by the Wokingham SLA (Standards and Learning Alliance).
In May 2023 we were visited by Ofsted who reviewed the effectiveness of safeguarding at the Piggott.
From the Ofsted Report May 2023:



Getting in Contact or Raising a Concern

Students at the Piggott School know they can talk to any member of staff if they have concerns and worries about their safety or someone else's.
If you are concerned about the wellbeing or safety of a young person in our school, please contact the safeguarding team by either calling the school on 0118 940 2387 or emailing safeguarding@piggottschool.org

If you believe a young person is in immediate danger, please contact the Police.

You can also contact Wokingham Borough Council if you need advice regarding the safety of a young person.
https://www.berkshirewestsafeguardingchildrenpartnership.org.uk/scp/wokingham/concerned-about-a-child-in-wokingham
Other Information
| | |
| --- | --- |
| | The NSPCC have useful information about keeping young people safe and up to date information about safeguarding and child protection in the UK. |
| The Piggott School Safeguarding Policy | |
| Keeping Children Safe in Education 2023 | |