1st Place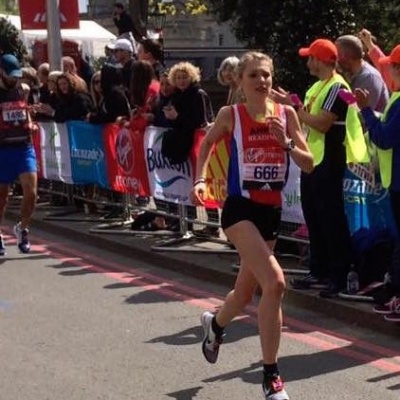 Anna Boniface (Former Piggott Student) finishes First Female in the Mass Race of the London Marathon
I was a student at The Piggott School from 2002-2009 and PE was always my favourite subject. I enjoyed being on the netball, basketball and football teams. I ran cross country every year at school, but wasn't entirely enthusiastic.
When I ran the Green Park challenge as part of a school team, Mrs Hopkins gave me the much needed nudge of encouragement to focus more on running. I joined Reading Athletics Club and was a regular member of the cross country team. In my first year of sixth form I made the Berkshire team at the English Schools Cross Country Championships along with other Piggott School athletes. Unfortunately a few months later, I had a nasty hip injury where I was on crutches for months. I was determined to get back running again and during my gap year worked hard with physiotherapists, whilst working in the PE department. I got back into running when I started Brunel University studying Physiotherapy. I spent many seasons as a very average club runner, finishing middle of the pack in races. Two years ago, with sheer determination and hard work, I started to improve.
On Sunday 23rd April 2017, I ran my second marathon, improving by 9 minutes in a time of 2.37.07 and finishing first female in the mass race of the London Marathon. I now have my sights firmly set on an international vest, something I could have never imagined a few years ago.
I would like to thank the PE department, particularly Mrs Hopkins. The encouragement I received has given me the passion I need to be a marathon runner.
- Anna Boniface