Transition to Year 7
Please find below information on starting The Piggott School in September 2022. If you are looking for information on how to apply for Year 7 in September 2023, please click here.
Are you starting at The Piggott School in September 2022? If so, we hope you are as excited to meet us as we are to meet you.
Saying goodbye to your primary school and moving to a bigger school with many more students can be a daunting prospect for many students. It is important to us that your transition to The Piggott School is enjoyable, and we will do our best to ensure that your transfer to The Piggott School is as smooth and memorable as possible.
Please find below some key dates for your diary in the lead up to you starting at The Piggott:
April/May: Welcome Letters. Your parents will receive an email with a letter welcoming you to The Piggott School and a link to the admissions forms for them to complete.
May/June: Primary School Visits. Members of the Year 7 team will visit you at your primary school. This is an informal visit and is a chance for you to meet a member of the team and ask any questions you may have.
Weds 22nd June: Year 7 Induction Day (9.15am-2.30pm). This is a chance for you to spend a day at The Piggott. You will meet your new tutor, get to know the school, have some taster lessons to get a feel for life at Piggott. Students should arrive at 9.15am and the day will finish at 2.30pm. Students should wear their primary school PE kit.
Weds 29th June: Uniform Pop Up Shop (4pm-5.30pm). Both Stevensons and Different Class will be at The Piggott to give you a chance to 'try before you buy' and to place orders for the uniform and PE kit.
Weds 6th July: Induction Evening (5.30pm and 6.30pm*). An evening for the parents to hear talks from the Headteacher and members of the Year 7 team. To accommodate all our new students and their families we will hold two presentations.
*Parents of children with surnames A-L are asked to attend at 5.30pm. Parents of children with surnames M-Z are asked to attend at 6.30pm.
Tues 23rd August - Thurs 25th August: The Piggott Summer Camp. Pupils are invited to the Piggott Summer Camp. This will be a fantastic opportunity for pupils to participate in activities led by Piggott teachers and support staff. Students will participate in a tutor group challenge, having taster sessions in a variety of curriculum areas as well as participating in a tutor group sports tournament in the afternoons.
Tuesday 6th September 2022: Your first day. Welcome to Piggott! Your first day will begin with an extended tutor time with your tutor group where you will receive your timetable and school planner.
Information about these events will be sent out via email.
Transition from Year 6 to Year 7
A number of the Piggott School (Secondary) staff regularly work in the primary school - from all department areas.
Some of the Piggott School Sixth Form students also help and meet primary pupils before they move to Year 7.
The School Day
From September 2022, school starts at 8:30am and finishes at 3:00pm each day.
Please find below the timings of the school day.
Registration: 8:30am - 9am
Lesson 1: 9am - 10am
Lesson 2: 10am - 11am
Break: 11am - 11:20am
Lesson 3: 11:20am - 12:20pm
Lesson 4: 12:20pm - 1:20pm
Lunch: 1:20pm - 2:00pm
Lesson 5: 2:00pm - 3:00pm
Uniform
Please see details of the school uniform and how to purchase here. As you may be aware we operate a "House" system within the Piggott School. The sweatshirts have different coloured logos to represent the Houses. Parents will have received a letter after the Induction Day in June informing them of the House that they will join so that the correct colour can be purchased.
Please see the below leaflets on current arrangments to buy uniform from our suppliers Stevensons and Different Class (PE kit)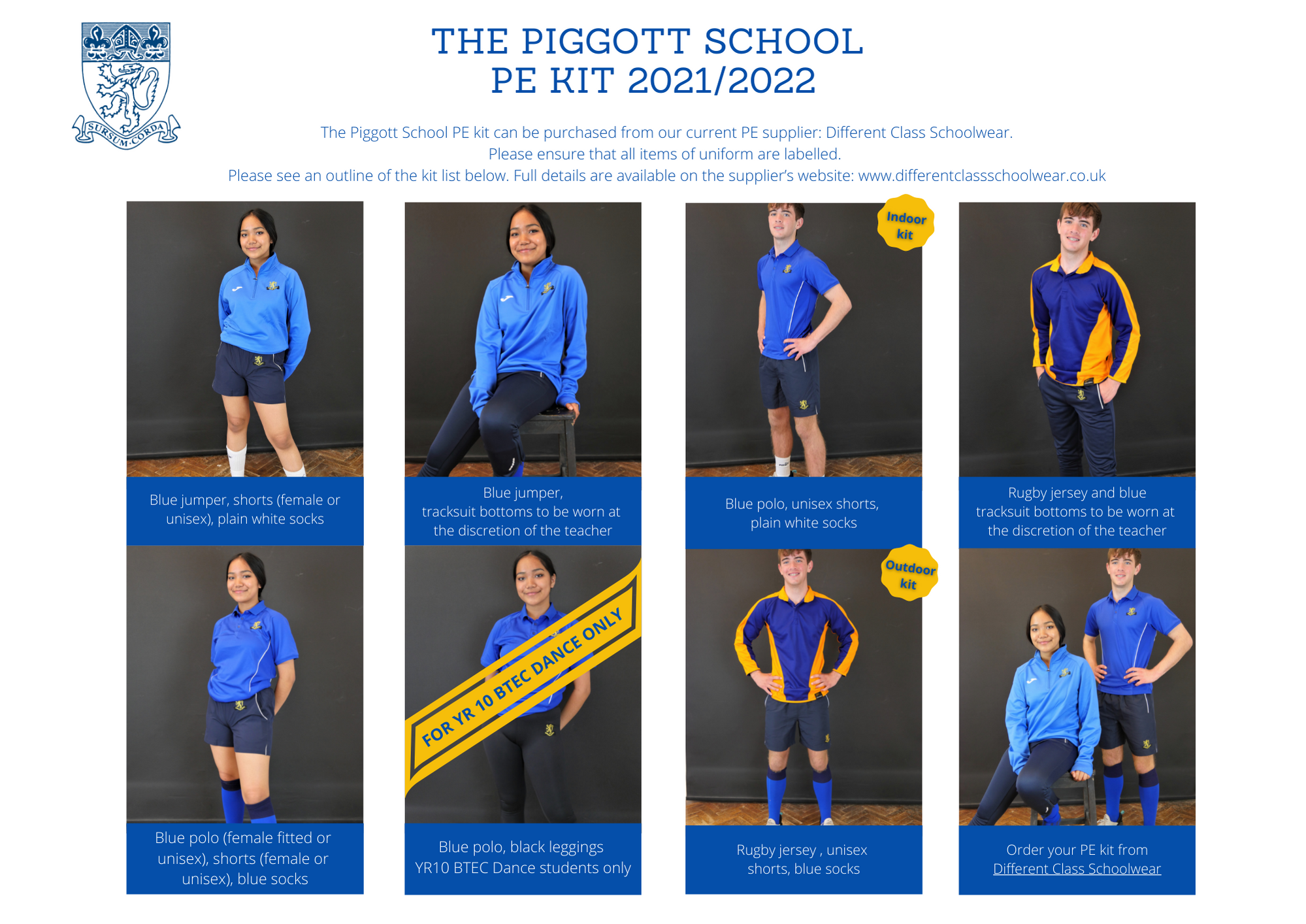 Taster Day at the Piggott School, Wargrave
The taster day, held in June or July, helps pupils learn their way around the Piggott School (Secondary) and feel confident about joining the school at the start of Year 7.
Other Opportunities
Other opportunities, such as Sports Festivals and Language Days take place at the Piggott School, so that younger pupils gain an 'early flavour' of the school.
INDUCTION VIDEOS
Below we have provided you with a series of videos at the link
Our welcome video a reminder of the things you have to look forward to when you start secondary school in September

A virtual tour of the school site

A welcome message from our Headteacher, Mr Gray