Year 8 Curriculum
Curriculum Content - Summer Term 2020
English
English – Year 8 - All work is issued via Show My Homework and/ or Google Classroom

Term 5 – The Novel
Prior to schools closing, students had begun their novel study. They will have been reading one of the following novels, all of which are based on Shakespeare plays:
Exposure, Mal Peet
Ophelia, Lisa Klein
New Boy, Tracy Chevalier
Enchanted Glass, Dianna Wynne Jones
King of Shadows, Susan Cooper
Teachers are uploading work to Show My Homework and/ or Google Classroom for students to complete.
Tasks will focus on a range of comprehension and creative writing skills

Term 6 – Texts into Moving Image
Students will explore the process that goes into adapting a fiction text for television or cinema. Alongside the technical side of analysing screen stories, students will look at extracts from texts and accompanying short clips of film. Clips will be available on YouTube.
Students will then have the opportunity to do some independent work exploring a text of their own choice and considering how they might adapt this for the screen.
Ongoing Work
Just as they would be doing were we to still be in school, students should also be reading for at least 20 minutes a day.
Year 8 have a reading list with recommended texts that complement each term's scheme of learning – these can be found on the Piggott Sharepoint in the 2019-20 Home Learning Folder in the English section. There is also a reading list featuring texts from other cultures (we might not currently be able to travel abroad physically, but it does not mean we can't imagine and learn about other places).
Audible stories have also made a number of texts free to listen to: https://stories.audible.com/start-listen
An 'Extension Tasks' folder can also be found on the Piggott Sharepoint in English/ Home Learning 2019-20.
In cases where students had more than one additional teacher, some 'non-lead' teachers may set additional small tasks. Other 'non-lead' teachers may liaise directly with the lead teacher and leave the setting of work to them solely.

Maths
Year 8 Mathematics Home Learning: Sets 1, 2 and 3 (For Set 4, please scroll further down)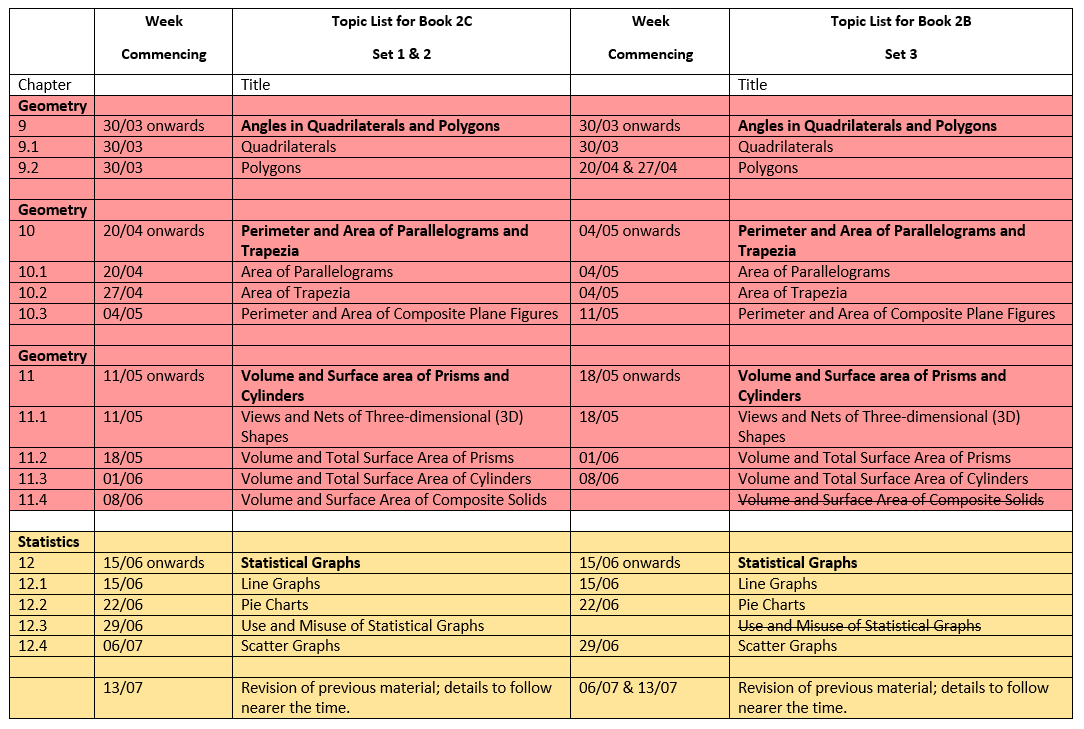 Year 8 Mathematics Home Learning: Set 4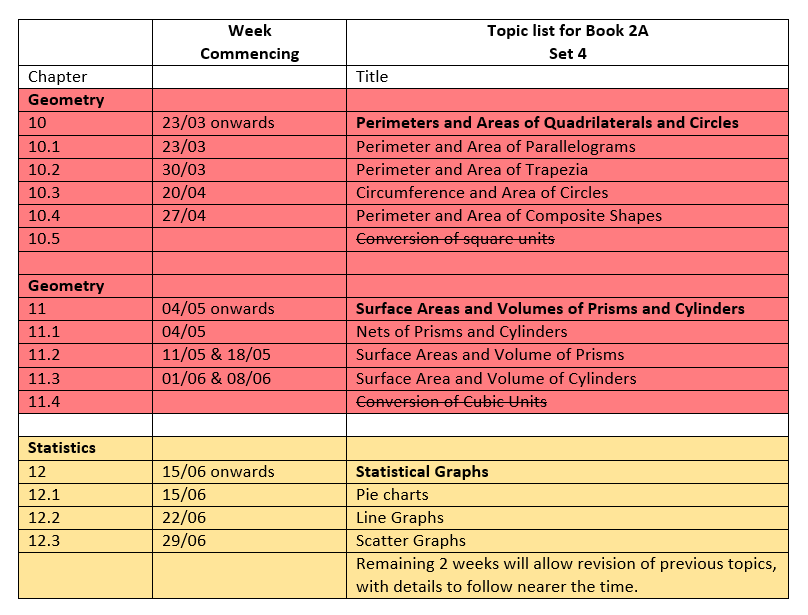 Science
Year 8 home learning content for Science
The topics that are due to be taught since schools were closed until the summer as follows:
A revision and consolidation of the topics taught since January (3 weeks)
Ecology, waves and energy (9 weeks)
We topics covered since January that we have been revising are as follows:
Natural selection and Charles Darwin
Extinction
Inheritance
DNA
Genetic and modification
Friction
Turning forces
Pressure in gases and liquids
Combustion and thermal decomposition
Conservation of mass
Exothermic and endothermic reactions
Energy level diagrams
The new topics consist of areas including:
Aerobic and anaerobic respiration
Photosynthesis and factors that affect it
Leaves and their adaptations
Plant minerals
Sound waves and how they travel
Water waves and how they can be modelled
Temperature
Convection, conduction and radiation
This should take us to around the middle of June and then we would be consolidating on what we have learnt this year. If there is time we may complete a project on rocks and the rock cycle. This includes topics such as types of rocks, global warming, climate change and extracting metals.
The work is being set on SMHW and Kerboodle is a recommended source of information as they have access to the digital textbook. Students can also access content using a CGP revision guides as well as BBC Bitesize which groups the content into topics.
Click here for the revision guide

Geography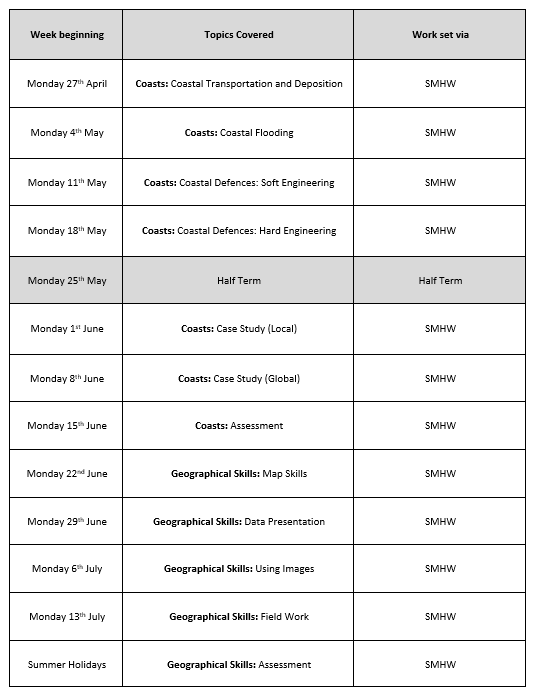 History
Year 8 Work for the summer term
Students would have continued their course on The World Since 1901. The course is divided into a number of key themes and students had already completed the first one on the impact of World War One on soldiers.
Each theme is divided into a number of discreet lessons and students are being set a piece of work on SMHW each week related to each one:-
Key Theme 2: How have wars affected civilians?
What precautions should Britain make for war?
What should the government do about evacuation?
What was evacuation like for people?
Was the bombing of Hiroshima and Nagasaki justified?
Key Theme 3: How have people suffered persecution during the 20th century?
What can a song tell us about life in a Nazi Labour Camp?
Was the Holocaust inevitable?
Should the film Gandhi lose its Oscars?
What happened during the Salt March?
Was London the place to be in the 1950s and 1960s for the Windrush immigrants?
Those students continuing History will complete this course in the Autumn Term of Year 9 by looking at persecution in South Africa and examples of genocide in countries like Rwanda, Bosnia and Cambodia.

French
Year 8 French Outline of Work Summer Term 2020
Work will be set on each of the following themes in various forms, but most likely a PowerPoint or a worksheet that will specify notes that need to be copied into exercise books and will include a variety of tasks that need to be completed and self-corrected with an answer sheet.
Regular vocab learning will also be set as well as Duolingo once a fortnight.
Disney project:
Ma vie (My life):
Morning routine + reflexive verbs
Arranging to go out (on pourrait) + accepting/refusing invitations
Cinema - types of films + opinions
Temps libre (Free time):
Talk about what you do after school - present tense
Talk about what you did last weekend / yesterday – perfect tense avoir verbs only
Talk about where you have been / stayed – perfect tense être verbs
German
Year 8 German Outline of summer term learning
Introducing different types of TV programmes and opinions on them
TV viewing habits – including perfect tense
After school activities – reinforcing hobbies and time phrases
Discussing Class trip (reinforce perfect tense here – so crucial for GCSE)
Body parts (introduce possessive adjectives)
Illnesses - describing what might be wrong with you
Remedies – including scenario at chemist / doctor

Spanish
Year 8 Spanish Outline of Work Summer Term 2020
Work will be set on each of the following themes in various forms, but most likely a PowerPoint/Googleslide or a worksheet that will specify notes that need to be copied into exercise books and will include a variety of tasks that need to be completed and self-corrected with an answer sheet.
Regular vocab learning will also be set as well as Duolingo / Memrise once a fortnight.
Module 4: La comida y la bebida – food and drink
Saying what you like to eat and drink
Look at the differences between Spanish and English mealtimes
Say what you have for breakfast, lunch, snack and dinner
Say what your favourite meal is / Describe a special meal
Buy fruit and veg at the market to make a Spanish meal
Module 5: La ropa y la moda – clothes and fashion
Revision of food and other items and different shops
Give opinions about clothes
Say what you wear for different occasions (present tense)
Describe an outfit that like to wear (extend detail)
Learn how to buy clothes in Spain
Ask to try something on

Chinese
Year 8 Chinese Outline of Work Summer Term 2020
Work will be set on each of the following themes in various forms, but most likely a PowerPoint or a worksheet that will specify notes that need to be copied into exercise books and will include a variety of tasks that need to be completed and self-corrected with an answer sheet.
Regular vocab learning will also be set as well as Quizlet once a fortnight.
From textbook of Jinbu 2
假期 (Holiday):
First lesson will be talking about the weather, using different time frames.
Second lesson is around the world, as we already learned this, so will be just a quickly revise of talking about different countries and languages
I like the seaside. Talk about where you like to go for your holiday
My world tour. Learning transport.
I went to China. Using past time marks to talk about where you went on holiday in the past.
Extension, review, revision & test.
我 (All about me!)
I am tall! (Describing people's appearance using verb- adjectives.
This is my bedroom (describe your room)
Her shoes are blue. (talk about clothes and colours.)
I get up at 7 o'clock (talking about your daily routine)
Daily life and clothes in China. ( Learning about teenager's life in China)
Extension, review, revision and test
你家在哪儿 (Where do you live?)
My town. (Talking about places in your town)
Where shall we meet? (Learn to use relative places words and directions)
Weekend plan. (Using future time phrases to talk about weekend plans)
My house. (Describing your house using comparisons)
Extension, review, revision and test

RE
Year 8
Topic 1: Hinduism
Lesson 1 - Hindu Key beliefs
Lesson 2 - Karma and Reincarnation
Lesson 3 - Scriptures
Lesson 4 - Symbolism and the Hindu Temple
Lesson 5 - Hindu worship and the Temple at Home
Lesson 6 - 4 Stages of Life in Hinduism
Lesson 7 - Hindu Festivals

Design & Technology
Due to the nature of the Design & Technology course it is, unfortunately, not possible for students to complete the same content that they would have studied in school at home. We will therefore set a number of different mini design tasks that will enable the students to develop the same creative and problem-solving skills at home. We will try and make these tasks as flexible as possible as we appreciate that students may be limited by the resources available at home.
If possible, students should submit evidence of the work that they have produced online via SMHW.
Each mini design task will focus on developing the following skills:
Key stage 3
Through a variety of creative and practical activities, pupils should be develop the knowledge, understanding and skills needed to engage in an iterative process of designing and making.
Design
Use research and exploration to identify and understand user needs.
Identify and solve their own design problems and understand how to reformulate problems given to them.
Develop and communicate design ideas using annotated sketches.
Make
Select from and use a range of materials taking into account their properties. (we understand that students will not have access to materials, but they should still consider material properties when designing)
Evaluate
Test, evaluate and refine their ideas and products.
Other Resources Available:

Focus e-learning – This gives access to a number of online resources that can be accessed via a smartphone, tablet or computer. The relevant Focus e-learning link will be included on the tasks set on SMHW as this can only be accessed via the school's licence.
SolidWorks 3D CAD modelling – CAD modelling can help develop skills that apply to a number of different industries including product design, architecture, engineering, computer game design and animation to name just a few. If any students would like to develop their 3D modelling skills at home please email Mr Smith (smithm@piggottschool.org) from their school email account and he will send the download instructions and licence details. Unfortunately, this is only available on PC and doesn't work on a Mac.
Computing
Year 8
Pre-Easter:
Learning to create Algorithms using Flowcharts (main unit). Students were asked to complete a booklet (printed and shared online).
Weekly quiz : ongoing recap of previous topics
Choice of various online resources including Python, Construct, Photo Shop, Code Combat, Small Basic etc.
Post Easter:
Points to note:
Lessons will be released to students on day of actual class and where possible, at least 1 week to be given to submit homework.
Sample answers will be given out where appropriate so students can self-mark work.
All work to be supported / guided by teachers via provision of teacher led videos or associated tutorials, specific websites for guided and relevant research
All lessons will be concise and appropriately short so as not to overwhelm students.
Students are encouraged by their teachers to contact them in case of any issues
Proposed Units:
Weekly/Fortnightly quiz: ongoing recap of previous topics to continue
Python: (6 weeks)
Learn to do intermediate and more advanced textual programming in the Python programming language using easy to use tutorials. Lesson by lesson booklet and challenges provided to students shared on SMHW. Submit via SMHW. Fully guided unit.
Website Design (duration TBC)
Learn key skills and consideration in designing websites. Fully guided unit.
Graphics and Algorithmic Art (duration TBC)
Learn key skills needed for editing images, learn about vector images and use algorithms to create images. Fully guided unit.

Art
Year 8 Projects to be covered this term:
Portraits -An exploration of proportions and stylised imagery.
Skills – research, drawing, mark making, colour theory, design, pattern.

Drama
Year 8
1st Half-Term
Macbeth - Relationships & Choices
Students will be studying Macbeth (William Shakespeare) focusing on Relationships and choices. This is broken down in to weekly studies and tasks set on Show My Homework (SMHW).
On week 3 there will be one assignment / extended study task set to submit via SMHW and at the end of the five week study there will be a consolidation quiz testing their acquired knowledge about their study.
2nd Half-Term
Theatre History & Practitioner Study
Students will be studying different types / styles of theatre and practitioners that influenced them. This is broken down in to one-off weekly studies and tasks set on SMHW.
There will be a quiz set alongside each one-off weekly study to consolidate the knowledge acquired each week.
Any queries please contact Mrs Tomo tomom@piggottschool.org
PE
Core PE
During this time it is important that students keep themselves active. In order to support students with this we will set a weekly physical challenge which will cover the different components of fitness:
Strength
Speed
Agility
Balance
Cardio Vascular endurance (aerobic power)
Coordination
Flexibility
Muscular Endurance
Power (anaerobic power)
Reaction time

Alongside this we will be setting quizzes which will cover the following areas:
Health and Fitness
The body and how it works in relation to exercise
Types of exercise
Effects of exercise on the body
Types of training
Nutrition
Fitness Testing
Contemporary issues in sport

Students will also find further challenges on the PE twitter page @PiggottPE
There are many workout videos available on the internet including:
Body Coach
https://www.youtube.com/channel/UCAxW1XT0iEJo0TYlRfn6rYQ
Just Dance
https://www.youtube.com/channel/UChIjW4BWKLqpojTrS_tX0mg
Jessica Ennis
https://www.youtube.com/channel/UC393OqpmGADkrvWBDE2-Jcg
Youth Sports Trust
https://www.youtube.com/user/YouthSportTrust/videos
Food and Preparation
Home learning work for Year 8
Your lessons are once a fortnight so work will usually be set to cover 2 lessons - you can decide which order to complete the theory based task and the practical task.
You may need to adapt recipes/ quantities/ ingredients but have a go, please send photos of your practical tasks as they are great to see!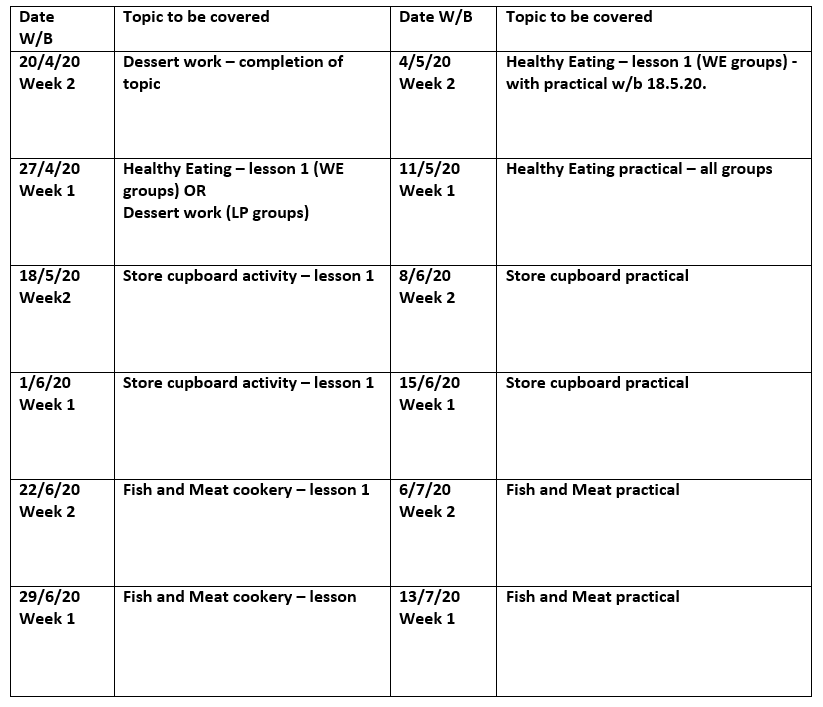 A plan of your home learning is as follows: depending when your lesson should take place, your teacher will set the work on SMHW.